Tasmania brings to mind rugged, beautiful landscapes and tucked away escapes, and there are plenty of those all over the island.
This home to the south of Hobart was built to make a low ecological impact, using timber from felled trees on the site for cladding, recycled bricks for an internal wall and offcuts of Colorbond to create the muilti-colored roof. Designed by Tasmanian natives AKA architects, the house features passive solar design, and insulated polished concrete slab to store heat in the winter, and additional heat pump for more warmth when necessary. The 2.8k/w solar PV provides all the energy the house needs.  Apple Crate Shack was featured in Sanctuary magazine Issue 45 and architect Andrew Kerr was profiled in Sanctuary 48.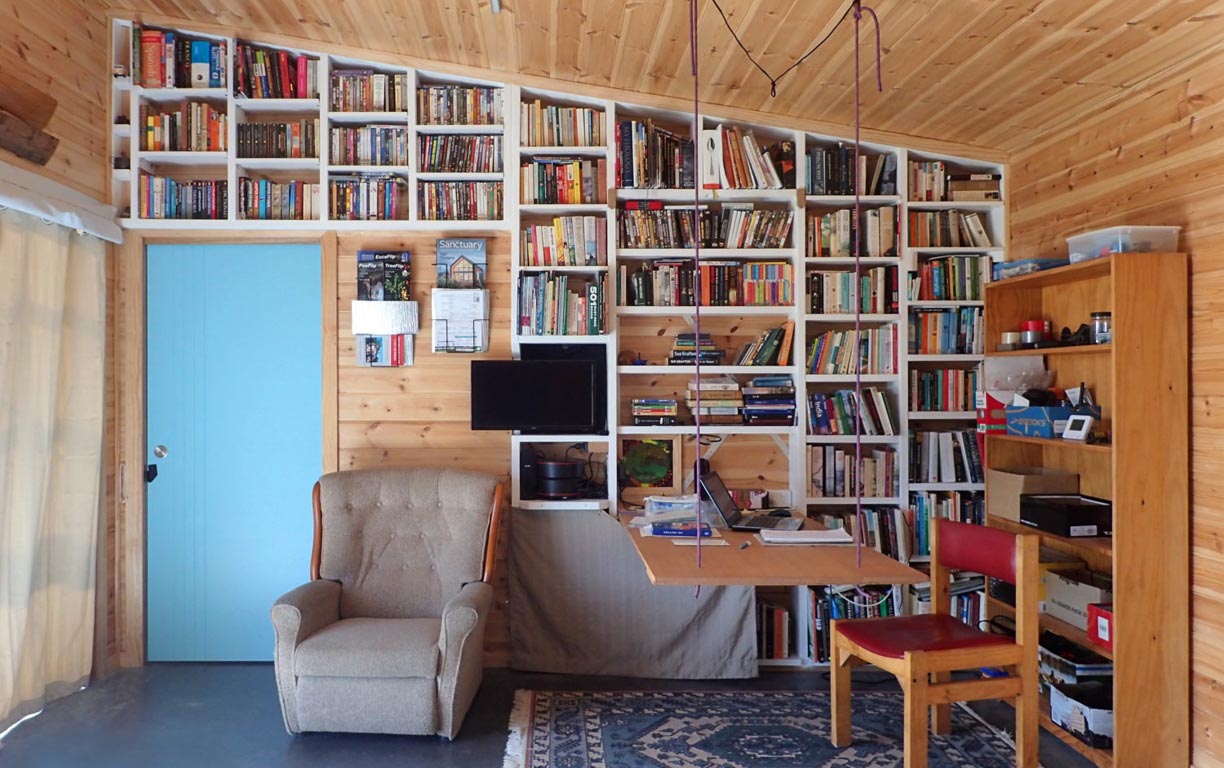 The owner of Solar Cottage wanted a comfortable house with a low environmental footprint and bills, and they got it. Located in a peaceful and pretty setting on the east coast of Tassie, within walking distance of all the amenities in Triabunna, this passive solar designed house runs on power generated by an off-grid power system and collects rainwater from each roof (garage, shed and house). Features include darkened concrete floor for passive solar gain, full height double-glazed windows and insulated floor, walls and ceiling. Tickets are required to visit this house. You can book them here.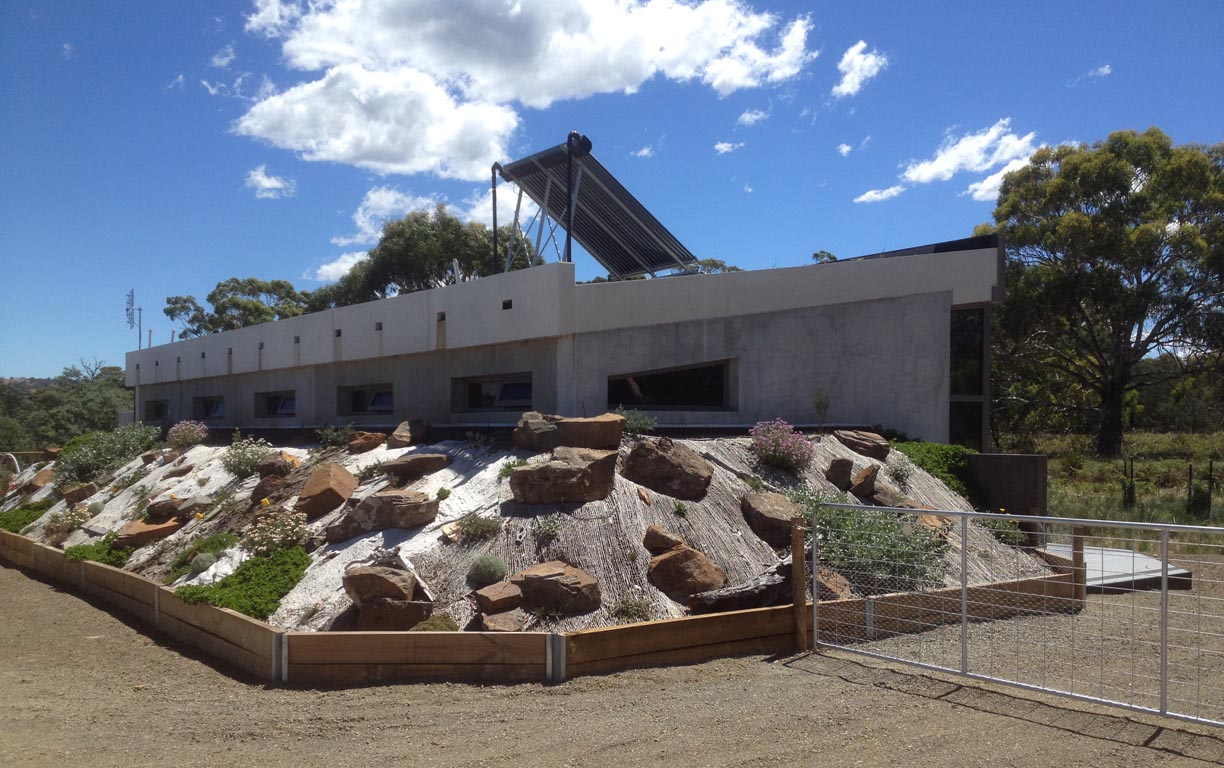 This home, also on Tasmania's east coast, is partially submerged in the earth with a green roof providing insulation. Designed by the owners, the home has maximised thermal mass to keep it comfortable all year long, and uses minimal energy. Decking, rocks and stones were recycled, and the house features a 45,000L rainwater tank.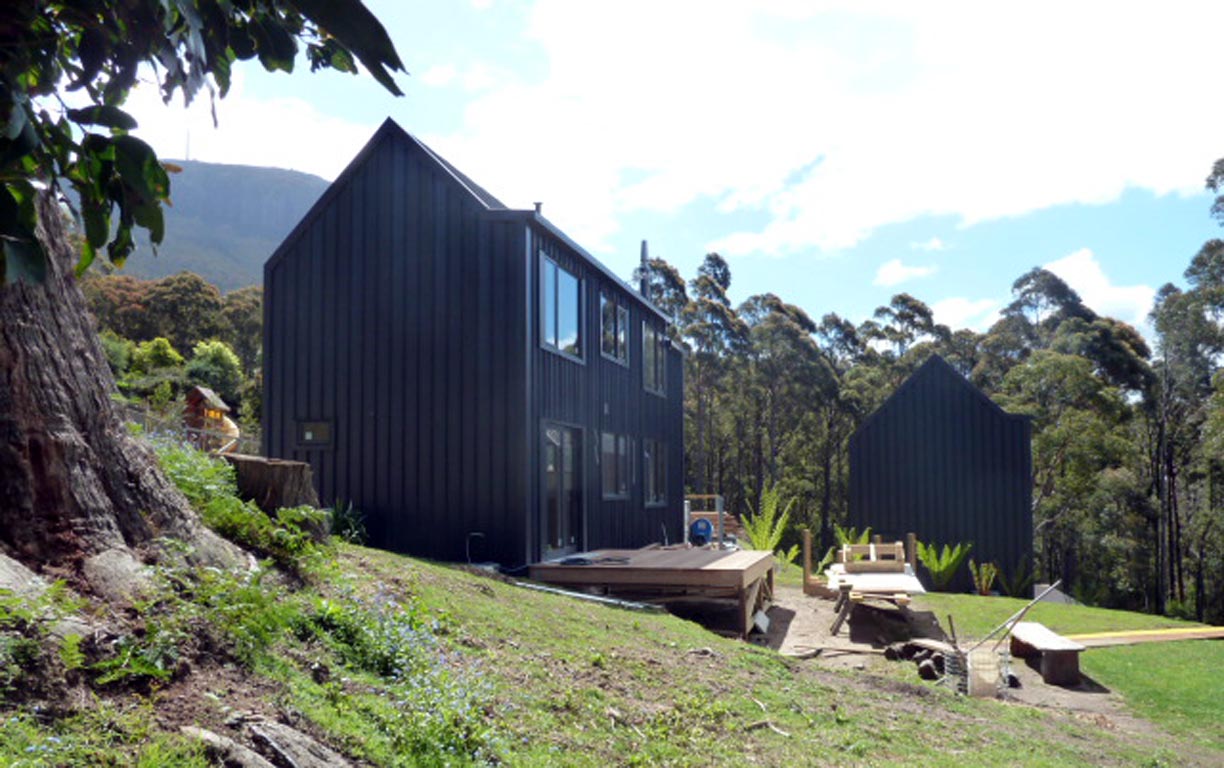 These stylish strata units are ten minutes from Hobart, but feel far removed from the bustle of city life. The timber framed and metal cladded units feature high levels of insulation, double glazed windows and LED lighting. Each unit has an energy rating of 8.1 stars.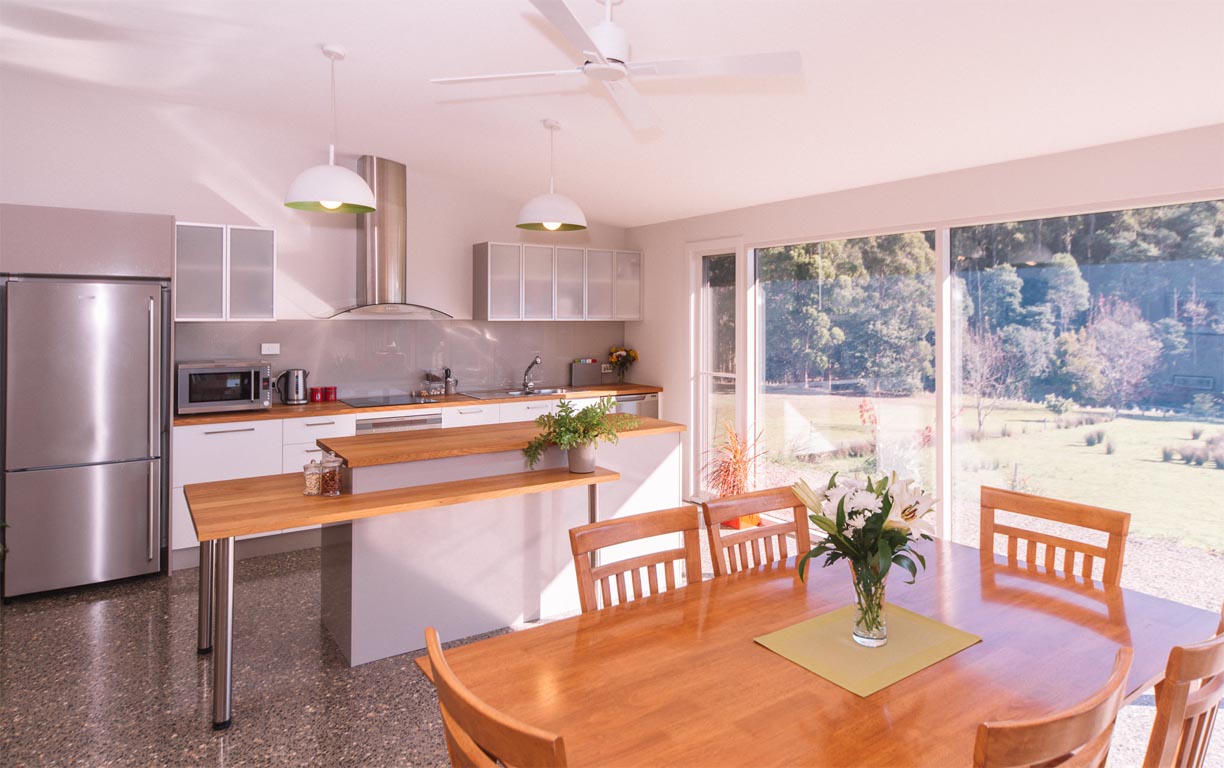 This house in Snug, TAS is an an example of an energy-efficient home design for a new house on a modest budget. Crowned the winner of HIA GreenSmart Energy Efficiency 2015 Award (Tasmania), this three-bedroom, single level home uses solar passive design to deliver a comfortable year-round ambient temperature that requires only occasional heating, even during winter. Features include fully insulated slab, thermally-separated from footings, extensive insulation, full-length opening windows and ceiling fans for ventilation, which helps the property achieve a Energy Star rating of 8.5.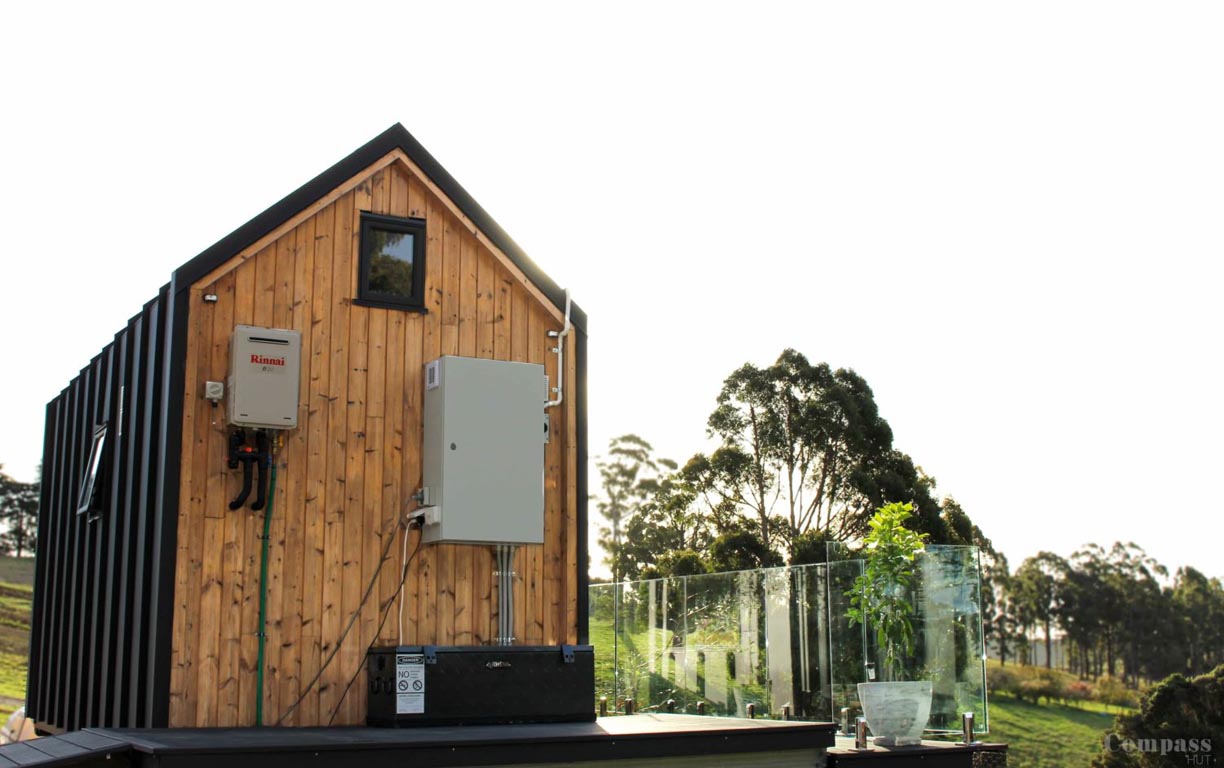 This custom tiny home by Wagonhaus Co Pty Ltd provides short term accommodations on a farm in the island's north-west. The house is 100% off-grid, relying on grey water and black water systems as well as collected fresh water, a composting toilet and a 4-panel PV solar array with gel battery. Compass Hut's design was based on Scandinavian barn houses. It faces north and includes quality insulation. A member of the Australian Electric Vehicle Association (AEVA) will be onsite on Sustainable House Day with a Hyundai Kona between 10am – 2pm to talk about EVs.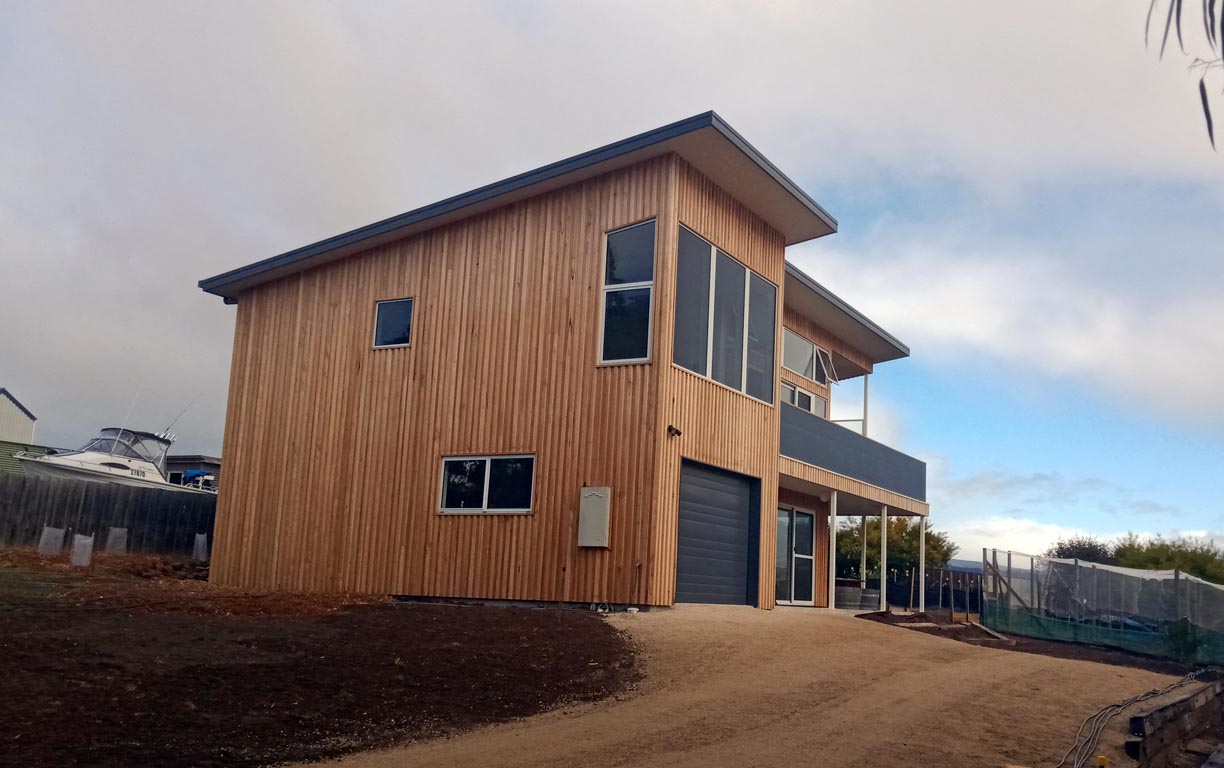 This home on Tasmania's east coast realised the owner's long time dream of creating a rough sawn vertical board  and batten house near the beach. Many elements of the home are recycled, including the staircase, timber benches, industrial light shades, bridge timber, garden and irrigation materials and rocks and stones. The house scored a 6.6. energy rating from NaTHERS.