Partner Events

Off-Grid Living Festival 2019
May 4, 2019

-

May 5, 2019

$15
Event Navigation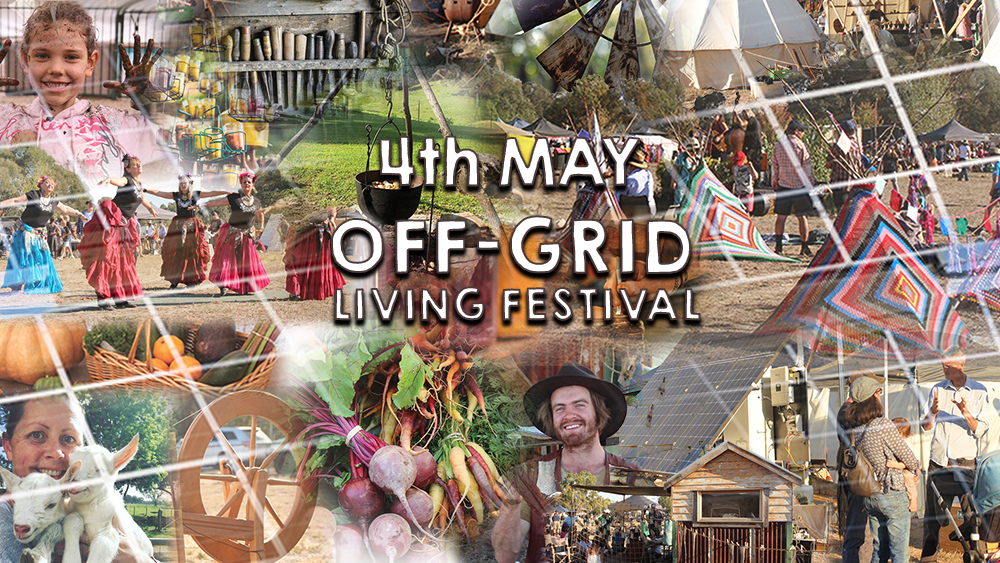 A day to celebrate and investigate off-grid living.
The Off-Grid Living festival is grassroots event showcasing a diverse array sustainable, off-grid living ideas……. from the past (homesteading & traditional crafts), to present (alternative farming and home building) and into the future (sustainable energy & technology).
The day offers a unique opportunity for attendees to meet people with vast experience from a variety of off-grid living areas – from the latest sustainable technology gurus, to the low impact traditional craftspeople. Participants leave this festival feeling uplifted and inspired to make positive, sustainable changes in their own lives, with new skills, products, information and contacts to help.
Whether you're someone who wants to sell everything you own and live in the bush, upgrade your house to solar, buy a farm and become self-sufficient, downscale to a low-impact lifestyle, learn new handcrafts and specialty skills, grow your own food, reconnect with nature, build your own natural home, quench your curiosity about off-grid living or simply have a fun day out with the whole family – there's something at the festival for you.
Enjoy info, advice, exhibitors, talks, workshops, demonstrations, food & entertainment and connect with a like-minded, sustainable community who thrive off-grid. There will be so much to see and do, be sure to arrive early as this will be a FULL day of activities.
For those who want to explore topics more in-depth, you can stick around and sign up for lengthier workshops and tours being offered onsite and in various regional locations on the Sunday (5th May). This is a great excuse to stay in the area for the whole weekend and really get into the theme by enjoying some off-grid camping, or soaking up the scenery in one of many beautiful country cottages dotted around the region.