The places in which we choose to live can drive the positive impact our cities deserve. But how can we help make the benefits of a sustainable home more easily understood? More consistent internal temperatures and better acoustic performance are pretty tricky to capture in a photograph, and if you're used to living in drafty spaces with poor insulation, it's no surprise that it's hard to imagine anything else.

 
But sustainable homes can be experienced.

 
Enter HV.Hotel, a sustainable accommodation concept in South Melbourne by HIP V. HYPE. Located atop HIP V. HYPE's award-winning Ferrars & York building just 100m from the South Melbourne Market, HV.Hotel provides guests with the opportunity to experience sustainable apartment living firsthand. As they say, seeing is believing.
For Katya Crema, Director of Projects and Head of Sales at HIP V. HYPE, travel across Europe, North America and Japan in harsh mountain climates exposed her and partner Liam Wallis, Founder of HIP V. HYPE, to exceptional, high quality apartment design. Many of these design features are integrated into HIP V. HYPE projects, like tilt and turn windows, energy recovery ventilation systems and top-down bottom-up blinds. 
Outstanding sustainability credentials means that a stay at HV.Hotel truly feels different. Despite its busy inner urban location in South Melbourne, HV.Hotel offers enhanced acoustic performance for a quieter experience. HIP V. HYPE's Low Impact Living approach means guests experience more consistent internal temperatures, fresher air and a lower carbon footprint too. HIP V. HYPE's inhouse sustainability advisory provide advice on best practice action across the built environment, working closely on HV.Hotel to ensure passive design principles were embedded from the very outset to achieve the best outcome. 
Outstanding sustainability credentials means that a stay at HV.Hotel truly feels different.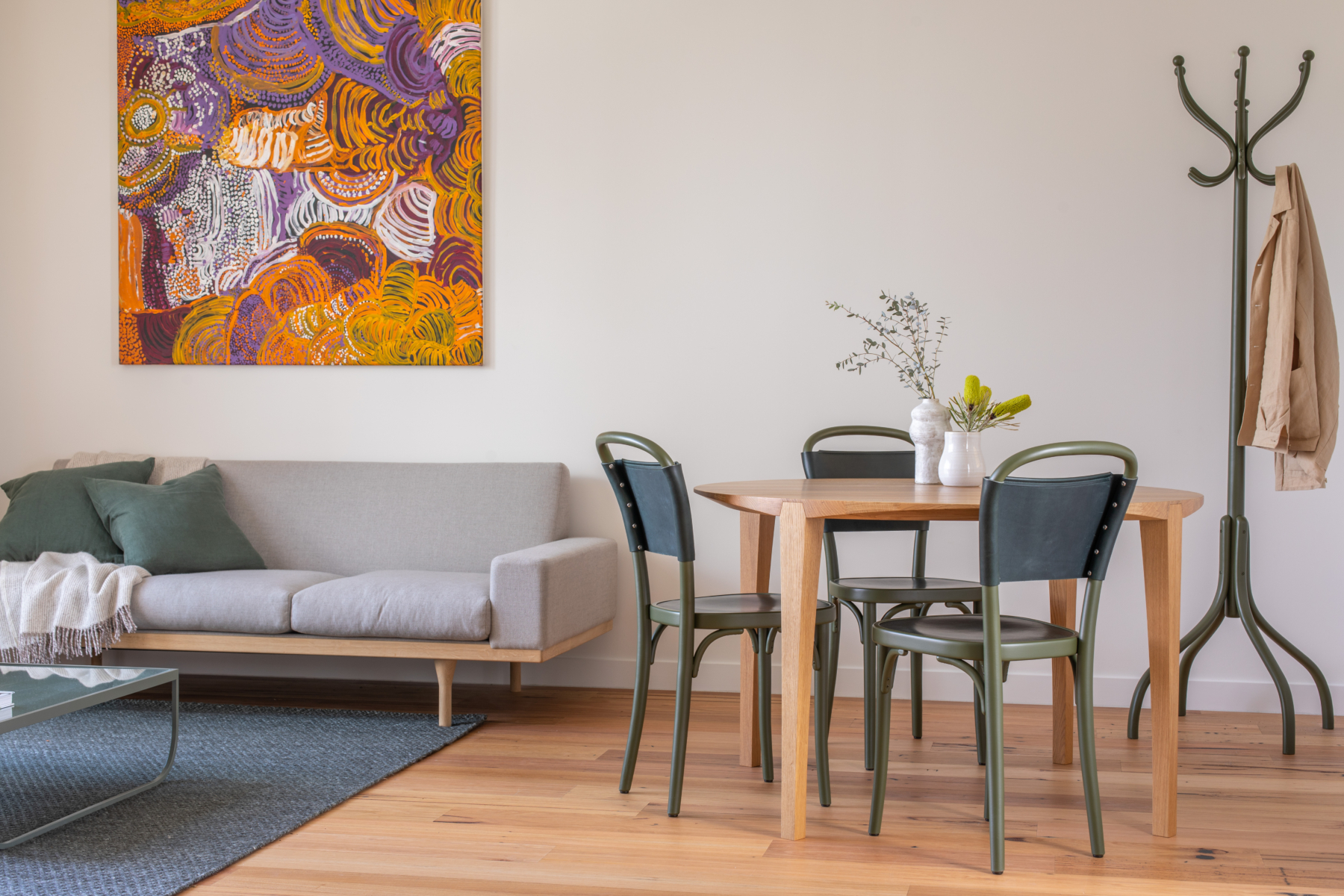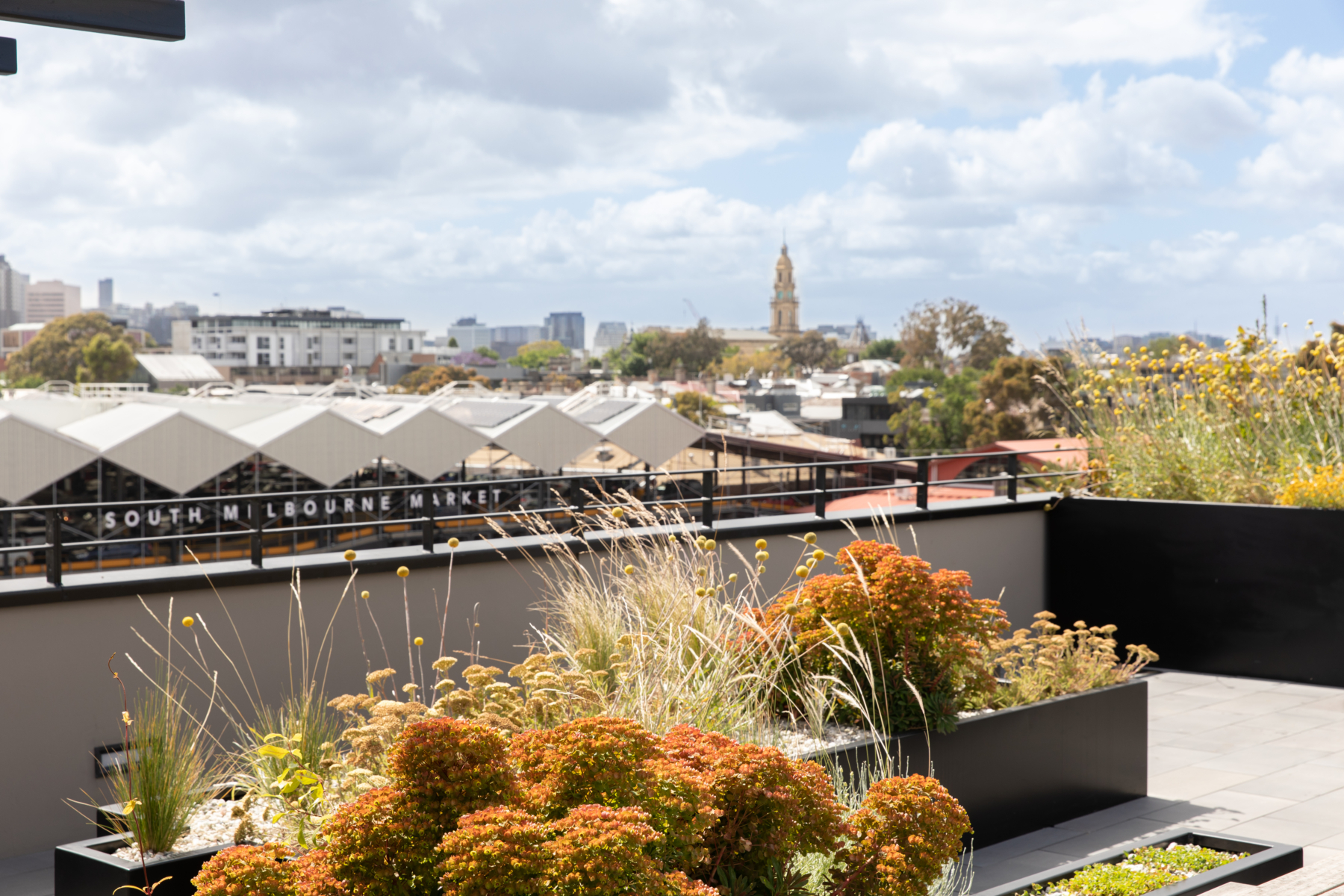 A Nationwide House Energy Rating Scheme (NatHERS) energy rating of 8.1 stars (out of 10) is reflective of the exceptionally stable and consistent internal temperatures. Guests require active heating or cooling more infrequently, which makes for a more comfortable stay. HV.Hotel is also dual aspect, bringing in natural light and ventilation from both sides of the apartment, carbon neutral in operation, 100% electric and powered by 100% renewable GreenPower electricity. 
The HV.Hotel concept is designed to support positive behavioural change. Via collaborations with the likes of BINQ, Robert Gordon and IN BED, together with a very considered selection of materiality, HV.Hotel seeks to break down the perception that living sustainably can't be beautiful, efficient and easy. 
HV.Hotel features double-glazed timber windows, supplied and installed by local manufacturer, BINQ. These windows are certified to the Passivhaus standard, the world's leading performance standard for buildings that measures their thermal comfort and airtightness.
Double glazed timber and thermally broken aluminium windows and doors reduce heat gain in summer and heat loss in winter, with the added benefit of minimising noise. Timber and the thermal break ensure less energy is transferred between inside and outside further contributing to more consistent internal temperatures throughout the seasons.
The sealed air gap between the two panes of glass acts as an added layer of insulation, keeping the space at a more comfortable temperature. This extra insulation lessens reliance on artificial heaters and air conditioners, ultimately reducing energy costs.
HV.Hotel features an Energy Recovery Ventilation (ERV) system, providing a constant supply of fresh, filtered air to remove stale air and odours and to mitigate against condensation and mould growth. A four-stream bin system also simplifies the way items are discarded, preventing recyclable resources ending up in landfill. 
The driving force behind HV.Hotel is HIP V. HYPE's Better Apartment Living principles; the key principles that make living in an apartment enjoyable. From site selection and responding to place, to hanging gardens and casual interactions, the Better Apartment Living framework supports a memorable and unique experience for guests.